We are currently engaged in a number of research projects helping to "move the movement". More information coming soon.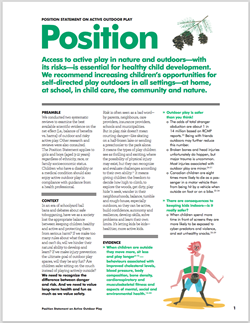 Position statement on outdoor active play
Access to active play in nature and outdoors—with its risks—is essential for healthy child development. We recommend increasing children's opportunities for self-directed play outdoors in all settings—at home, at school, in child care, the community and nature.
VIEW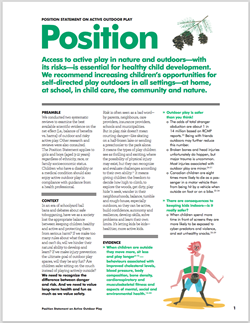 ÉNONCÉ DE POSITION SUR LE JEU ACTIF À L'EXTÉRIEUR
L'accès au jeu actif à l'extérieur et dans la nature, avec les risques que cela comporte, est essentiel au développement sain de l'enfant. Nous recommandons d'augmenter les occasions que les enfants ont de jouer de façon autonome dehors, dans des environnements variés, soit à la maison, à l'école, au service de garde, dans la communauté et dans des environnements naturels.
VIEW