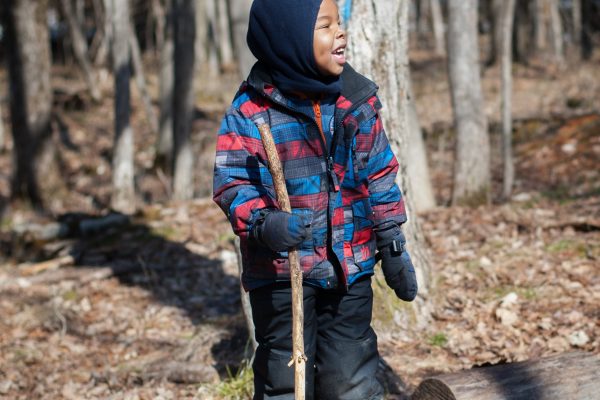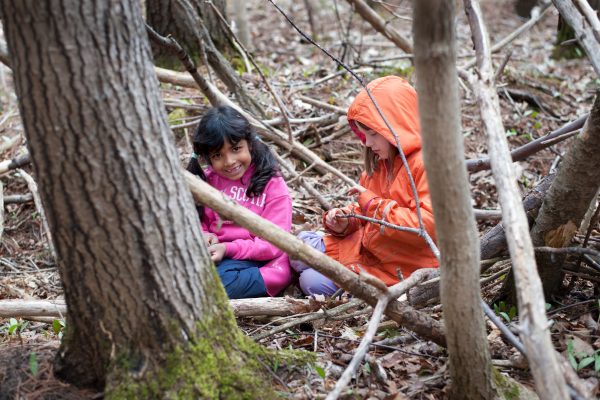 What are Forest and Nature Schools?
Learn more about this growing movement in Canada.
Some call it Nature Kindergarten, others Outdoor School, or Waldkindergarten, Rain or Shine School, or Bush Kinder. We call it Forest and Nature School (FNS). It can happen on a part-time or full-time basis, with all different age groups, in all seasons. It can take place in any kind of natural space – a stand of just a few trees or a majestic forest, a playground or an endless prairie field, a creek in a ditch or a vast ocean shoreline, tundra, desert, mountain. Children can find magic in the most ordinary of spaces. What matters is that they build a relationship to a place, through regular and repeated access to it, in the way that is most fitting to them: through play. Children at play in nature – that's at the heart of Forest and Nature School, whatever you call it.
Skilled educators support that play and the learning that inevitably emerges from it through close observation. They follow the child's interests, probe their theories, ask good questions, offer tools and resources, and get out of their way! They view children as innately competent, curious, and capable, and see themselves as facilitator, guide, and co-conspirator, not expert. Forest and Nature School educators are committed to place and play-based, emergent, and inquiry-driven teaching and learning.
The Forest and Nature School movement is gaining momentum all over the world, from Scandinavia, and the UK, where it is well-established, to Korea, Australia, and beyond. Many often trace the roots of FNS back to Denmark in the 1950s, and our work in Canada has certainly been informed by the Danish and also British approaches. But no discussion of FNS in Canada is complete without acknowledging that Indigenous people here have been teaching and learning on, with, and from this land for millennia. We have learned and still have much to learn from building reciprocal relationships built on mutual trust with the First Nations, Métis, and Inuit communities around us.
As more and more FNS programs emerge all across Canada, each one as different as the children who attend them and the landscapes in which they are rooted, the Child and Nature Alliance of Canada, through our flagship education project Forest School Canada, seeks to support national and regional communities of practice, through which we are establishing best practices in the FNS field for our distinctly Canadian context, and ensuring high-quality opportunities for all children in Canada to play and learn in nature.
Find a Forest and Nature School near you.
Explore the list of Canadian Programs.
*Please note: this list is not exhaustive! If someone on your team has completed the Forest and Nature School Practitioners Course and you would like to have your program added to this list, please email admin@childnature.ca with a description of how your program implements the Forest and Nature School approach. We look forward to hearing from you!