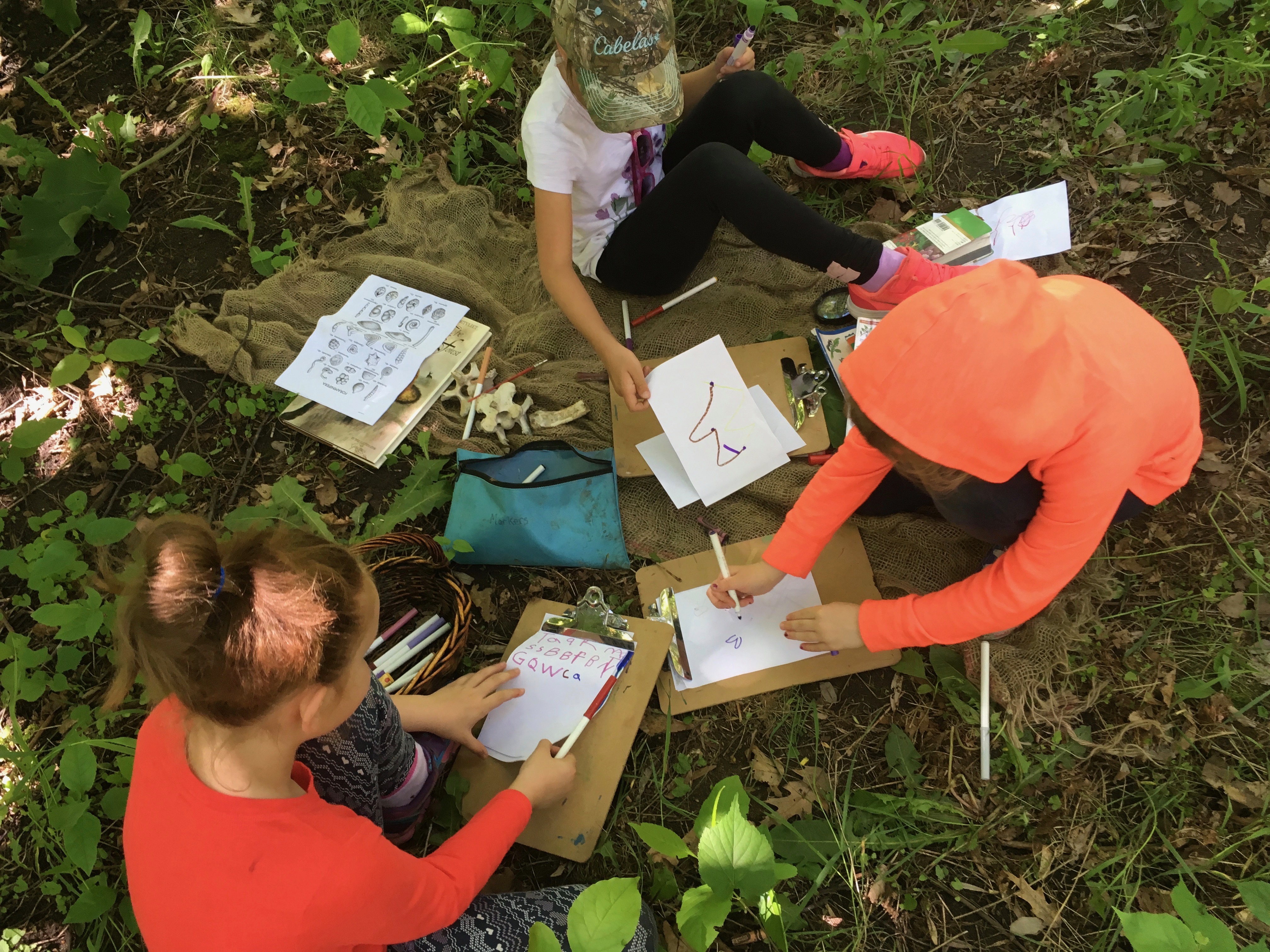 by Sonja Lukassen, coordinator Outreach and School-Based Programs, Ottawa Forest and Nature School
With the rapid onset of spring, and summer approaching so quickly, it feels right to share some images of the learning that has been emerging as children play on the land. I am frequently inspired by the children with whom I am privileged to work and play. Perhaps you will be, too.
I spend two days each week supporting students and their educators as we spend a full day together, out on the land. We have a partnership with a local school board (the Ottawa-Carleton District School Board). They acknowledge that learning emerges when children are given the opportunity to lead their own play in nature. Our approach is to strew, to inspire, to support, to watch and listen. We see each group 5 or 6 times, one day/week for consecutive weeks, nurturing connection, modelling and mentoring, striving to provide enough scaffolding that the children, their families, their educators, will feel willing and comfortable to continue to spend extended periods of time out on the land, together.
We notice a variety of benefits that support this time spent outside, from children being happier to certain distracting behaviours diminishing and disappearing outdoors; from language acquisition increases to more settled and focused behaviour in group settings and back in class.
We are not bound to cover curriculum expectations; rather we make space for children to follow their own lead and to uncover the curriculum on their own. The day-to-day educators we work with acknowledge that many, many of the necessary curriculum pieces emerge naturally in nature.
I've often been asked how we "do" literacy. Short answer- we don't "do" anything. We make space for all kinds of play to happen, and learning is naturally interwoven throughout.
So we don't "do" literacy, but it is definitely supported in the forest, and emerges everyday.
We always supply field guides, story books, nature texts and poetry, as an invitation:
Clipboards, paper, markers and crayons lead to a great many lists, proclamations, signs, and more.
A For Sale sign:
Documentation of creatures found:
An announcement outside a shelter:
A mushroom soup recipe:
A sign announcing being Open for Business (sometimes paper isn't enough, and paint on fabric is required):
Ecological Announcements:
Snow offers inspiration, both in creations and as a writing surface:
Besides being inspired by the surrounding natural space, creations often emerge that are floating in a child's head and call to be put down, as in the Adventures of Captain Crunch (below):
There are many ways that educators draw on the forest experiences to guide and inform work that takes place back at school. I feel that this is an ideal way to nurture the connection to the land that they and children feel, to continue to offer choice, to build upon a day spent in nature. Many educators have shared artefacts, images and anecdotes of how this happens. Their creativity, both educators and children, is truly inspiring.
How delightful and appropriate that the learning that emerges indoors is inspired by and connected to children's own curiosity and creativity that has emerged outdoors. It is a lovely interweaving of learning and play, indoors and out, through all seasons.
Inspiring, yes? Yes. In so many ways.