We are currently engaged in a number of research projects helping to "move the movement". More information coming soon.
Risk Benefit Assessment for Outdoor Play: A Canadian Toolkit
Thanks to generous donations from The Lawson Foundation and The Cowan Foundation, the Child and Nature Alliance of Canada was fortunate to lead the development of the first Canadian Risk-Benefit Assessment Toolkit for Outdoor Play. The toolkit was designed to support practitioners who work in the outdoor play sector, enabling them to take a balanced approach to risk and safety when working with children outdoors. The toolkit is the result of a broad collaboration, with input from leading figures in outdoor play, academics, policy makers, and face-to-face practitioners from across Canada and has undergone legal review.
VIEW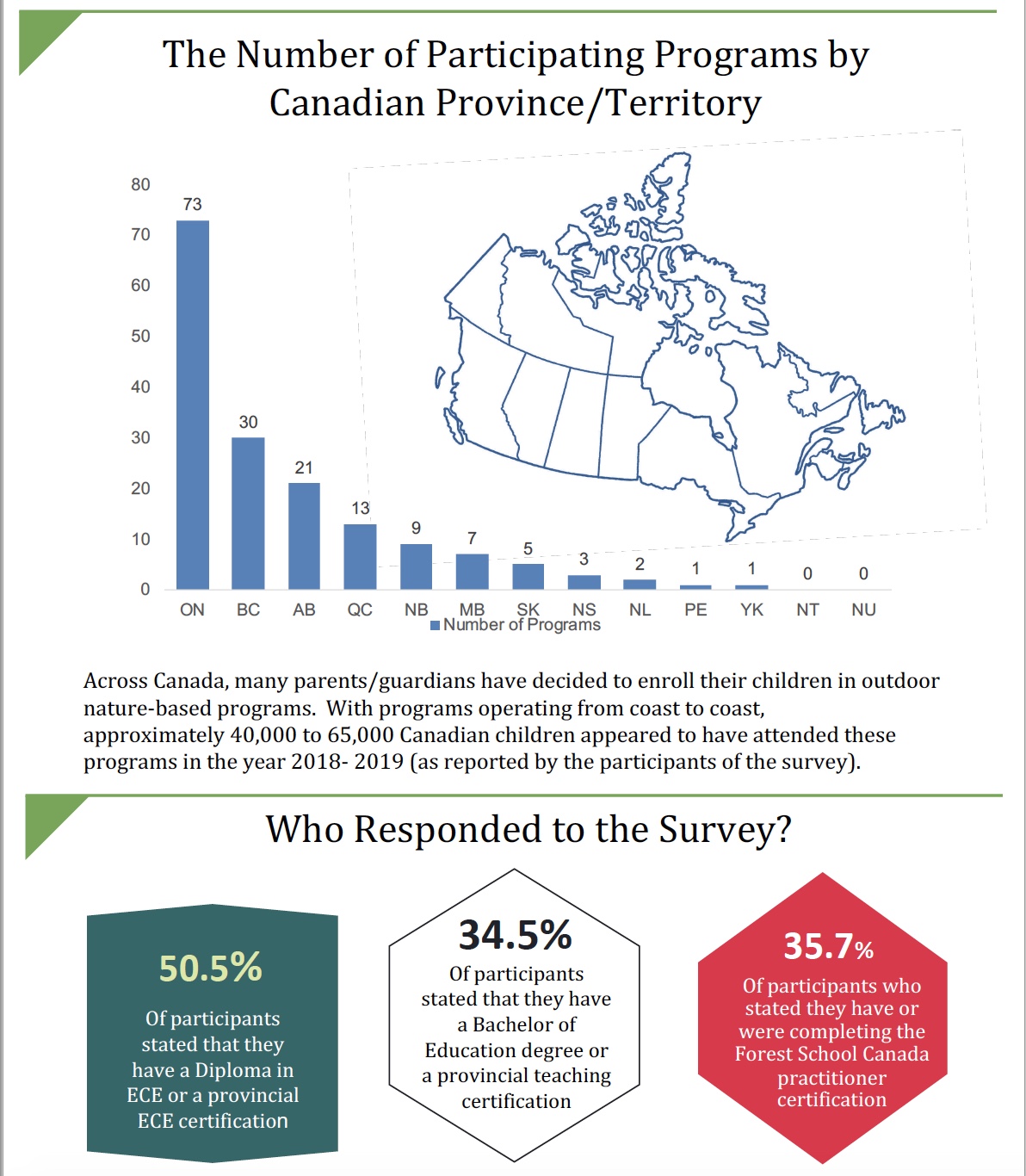 A Canadian Perspective of Outdoor and Nature-Based Learning
Across Canada, early childhood education nature-based programs have gained popularity with many new programs being implemented each year. Programs tend to vary in size, offerings, locales, context, philosophies, and children served. Once considered an alternative educational approach, the growing popularity of outdoor and nature-based learning experiences & programs indicate a need for greater understanding of the Canadian context. In April 2019, a research team from 3 universities & the Child & Nature Alliance of Canada launched a national survey of 27 questions through various nature networks' distribution lists and social media sites. The survey included questions that were both open and closed-ended, asking participants to share their thoughts and experiences of outdoor and nature-based learning. The survey was completed by 200 respondents and approximately 165 programs (not all respondents identified a program).
VIEW
Position statement on outdoor active play
Access to active play in nature and outdoors—with its risks—is essential for healthy child development. We recommend increasing children's opportunities for self-directed play outdoors in all settings—at home, at school, in child care, the community and nature.
VIEW
ÉNONCÉ DE POSITION SUR LE JEU ACTIF À L'EXTÉRIEUR
L'accès au jeu actif à l'extérieur et dans la nature, avec les risques que cela comporte, est essentiel au développement sain de l'enfant. Nous recommandons d'augmenter les occasions que les enfants ont de jouer de façon autonome dehors, dans des environnements variés, soit à la maison, à l'école, au service de garde, dans la communauté et dans des environnements naturels.
VIEW