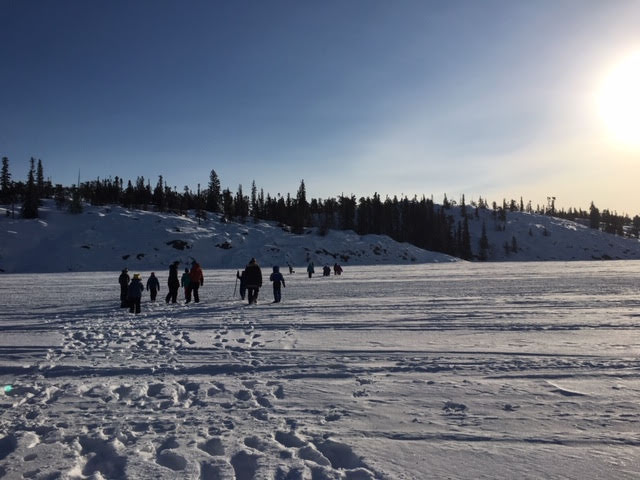 By Chloe Dragon Smith and Wendy Lahey of Bushkids NWT
Bushkids hosted our Forest and Nature School Practitioner Course this May in Yellownife, NWT and here Chloe and Wendy tell us more about the organization and their programs!
Can you tell us a little bit about your organization?
Based in Yellowknife, NWT, Bushkids provides a short one week summer camp, an open registration program, as well as training and mentorship to educators to bring their practice outdoors during the school year. We are grounded in a Land-based philosophy where Indigenous and Euro-western world views co-exist in a mutually respectful and welcoming space (i.e. "ethical space"). We practice play-based, inquiry-based, child-led and emergent learning approaches where safe risk taking is supported. Through our consulting practice we work with parents, educators and decision-makers to integrate this way of learning at all levels.
What is your program called, and where is it located?
We are called Bushkids. We currently utilize 4 sites throughout Yellowknife. All of them are nestled within the city.
The first is located behind our multi-sport facility, on a lake called Kam Lake. It is beside another on-the-land organization called the Arctic Indigenous Wellness Foundation. Follow a little trail behind the parking lot for about 200 meters, into the natural space just behind it. From there, pass the teepees and gravelled pathways of the Wellness Foundation and find our site – a wall-tent and a firepit, a pile of wood, and some remnants of forts, painted logs and rocks.
Our second site is at the museum in town. The wall tent is within view of the parking lot. It is a larger, more permanent structure  with plywood half walls and a wooden frame and floor. The firepit is just out of view of the parking lot, and looks towards a lake called Frame Lake.
Our third site is at a school in Yellowknife, right on their school property. We are hoping that more schools will get outdoor sites like this.  We consider it a success if the school doesn't need our mentorship any longer for the upcoming year – we have done a good job of empowering them to take on the leadership of their own program.
Our fourth site is at the Yellowknife Ski Club where we offer a one week summer camp.
Can you describe your programs?
We have two main program branches – A Tuesday registration program, and teacher mentorships:
Our Tuesday program is run from the Kam Lake site. It is a registration-only program for ages 5-11, where parents pay for their children to attend each week from 9 am-3 pm. We run this program for our continued learning, to enhance the teacher mentorships.

With our teacher mentorships, we work with all different ages within the public school system (thus far in Yellowknife only). We have worked with teachers and their students from kindergarten to grade 10. The teachers bring their classes to come out with us for 6 sessions of mentoring, where we lead the sessions and they get to participate and observe. They help us with documentation and integrating relevant curriculum. This is the branch of programming that we are looking to expand. We have found it helpful if teachers take the practitioners course before the mentorships, and we hope to offer more  courses and workshops in the NWT.
Our upcoming summer camp is being hosted in partnership with the NWT Literacy Council. We are thrilled that almost half of our registrations are subsidized for children of  immigrants. We are also grateful that the NWT Literacy Council supported one of their staff to take the practitioner's course this past May.
Our consulting practice includes meeting with government and school boards to help change policy and funding, to make it easier for teachers in the public system to bring their classes outdoors.
What is a "typical day" like?
In our Tuesday program and our mentorships, there are a few common elements that shape our typical day.
The morning is a soft start, that begins with free play

About an hour or so in, we have a circle to plan and frame our day using an inquiry based split screen learning approach that focuses on a learning asset and one or more provocations for the day

We often have a traditional knowledge holder/community member working with us

We often have food from the Land (rabbit, duck, goose, caribou, moose, beaver, berries)

Parent volunteers are present whenever possible (and required to join us at least once for our Tuesday program)

We try to theme our day around the animal, if we have food. For instance, we will tell a story about caribou in the morning, if we have caribou to cook and eat later.

Cooking is a part of nearly every day. If we don't have food from the Land, we will make bannock or a simple soup. Kids are free to help cook, or not.

We encourage lunch to happen whenever kids are hungry, we don't always eat all together.

We often take an excursion to the further reaches of our sites at some point, a small hike which some kids choose to go on, and some choose to stay behind.

The Land leads learning, and so although we tend to have these elements in our days, play can look different depending on the weather, loose parts, the group dynamic, and our developing relationships.
How did you come to be doing this work? What was your path to getting to where you are now?
Chloe: I grew up learning in the western education system, but also learning from my family, on-the-Land, through our Indigenous learning principles. It shaped who I am today. All the work I do, and have done, is around our relationships with Land. I believe that integrating outdoor learning into our everyday lives from a young age is the best way forward for a sustainable, healthy, and happy society.
Wendy: I began working with youth in the field of outdoor recreation as a teenager in Ontario and felt very happy and grounded in this work. I taught for a long time at the middle school/high school level, was a field instructor for Outward Bound Canada for many years and then moved North to Yellowknife 16 years ago. I began working with various communities while employed in the field of recreation or as an education consultant in the NWT. I have been taught how critical it is for health and healing to be on the land. I notice and feel first hand how a community of children can thrive when given the opportunity to be outside together on a weekly basis. I am inspired by what our participants do and what the parents tell me about the changes they see in their children. And ultimately, I am so grateful to Chloe and learn so much from her as we create an ethical space together.  
What have been some of the trickiest challenges you've faced, and how did you move through them?
Bushkids has only existed for a year a half so we are certainly still moving through our challenges. We are currently in the middle of a strategic planning process which has been very helpful.
Working out of 4 different sites is challenging because of the moving/purchasing/storage of equipment. Bushkids is currently a home-based business and although we have 4 different sites, there is very little secure storage space at some of these sites. Much of the equipment is stored at Wendy Lahey's house currently which is not ideal.
Building a strong team of employees that we can draw upon is very important to us. Aside from us (Chloe and Wendy), we have a team of three people that we can currently draw from and a few others that can help out in a pinch. Building a staff training process for the fall is a priority for us but funding for this is a barrier.
We hope to build up our consulting opportunities so that some of these funds can support staff training, overhead costs and subsidies to improve accessibility to our Tuesday program.
We still wonder if we should become a non-profit organization but haven't decided to move in this direction yet. In a territory of 43,000 people, it is sometimes difficult to find strong board members who aren't already committed to other organizations. Many sweat equity hours are going into the business and it is currently not sustainable. Funding is a barrier for us and we have applied for start up business grants but they don't create an opportunity to hire administrative assistance. We have numerous connections with the territorial government here but the contracting process is very slow.
Many opportunities seem to be knocking on our door (local non-profit organizations, Territorial and Indigenous Governments, school boards, researchers, Aurora College) and we must juggle what our commitments will be with our human resource capacity.  Our strategic plan will help us learn to say no which is sometimes incredibly difficult.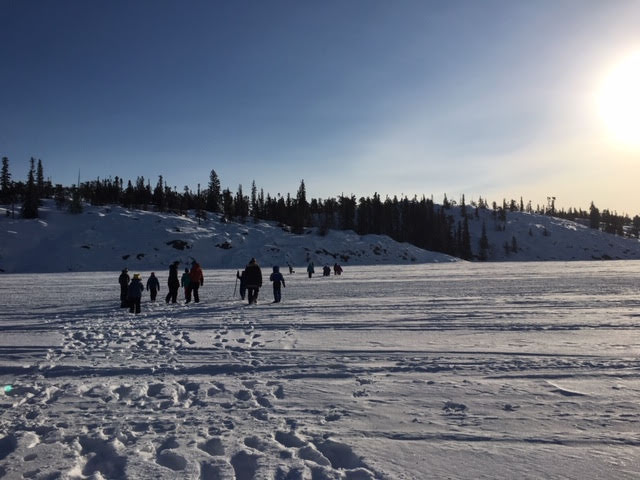 What did you decide would be ideal in a space? And what did you settle on as essential to your vision?
Sites on school grounds (or easily accessible from school grounds) are essential for our vision. They are not ideal in some cases; for instance, they are not far enough out of the city to harvest berries or snare rabbits. The benefits, however, outweigh the downfalls. For outdoor learning to happen regularly and for it to be successfully integrated with curriculum through inquiry, the sites must be close by.
What advice would you pass along to folks hoping to start a FNS program?
Our advice would be to consider the Land you are on, and how to create ethical space within your programming. How can you collaborate with the Indigenous peoples in your area, and keep an open mind, to shaping your program through process and relationship? This has made our program so rich.
Across Canada, Indigenous peoples have been teaching on the Land since time immemorial. Indigenous worldviews are intertwined with the Land, and so when we think about bringing learning outdoors, there is more than just plants and animals out here. There are people that have lived as part of the landscape for millennia.
What hopes do you have for Bushkids and for FNS in Northwest Territories and/or Canada?
Our hope for Bushkids and for FNS in the NWT is to continue bridging Indigenous and Euro-western systems/worldviews within our public school institutions, and bringing community together around the most important thing for a sustainable future – our future generations.
In our vision for the future, we see all educators in the NWT spending time connecting with Nature and community as a regular and integrated part of their practice. The Land guides learning for all in an ethical space that celebrates both Indigenous and Euro-western approaches to learning. This way of being supports healthy relationships with ourselves, each other and the Land.
Thanks, Chloe and Wendy!