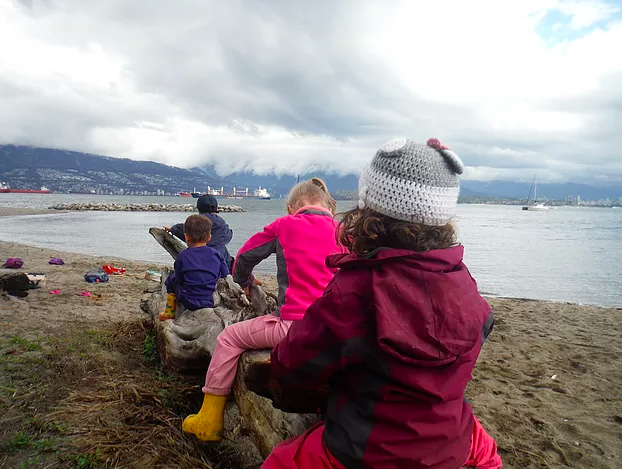 By Tricia Edgar, co-founder of Fresh Air Learning
Fresh Air Learning hosted our Forest and Nature School Practitioner Course this March in Vancouver, BC and here Tricia tells us more about the organization and their programs!
Can you tell us a little bit about your organization?
Fresh Air Learning is a Forest School based in Metro Vancouver, BC. We've been running since 2011 and now have 150 children a year in our programs. We also work with school classes and teachers around the city. Our program connects children to nature through play and hands-on exploration. We operate out of parks in North Vancouver and Vancouver, and we play and explore in forests, fields, beaches, and farms.
Can you describe your programs?
We have a wide variety of programs, including parent and tot groups, classes for preschoolers, classes for children on the spectrum, and a two day a week forest and farm school that runs in collaboration with a school district. We also mentor and assist teachers around the city as they bring their children out to school grounds and local parks.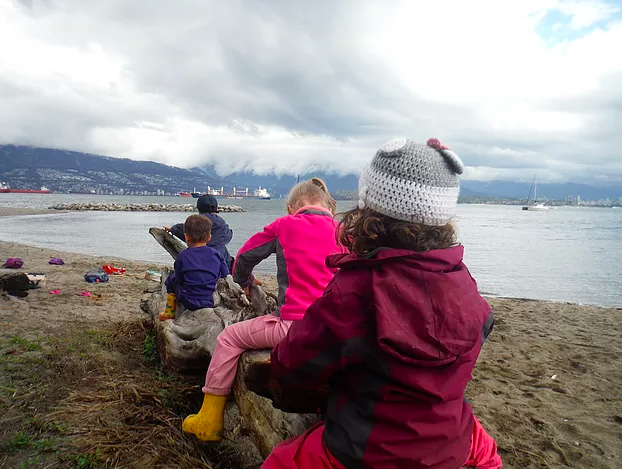 What is a "typical day" like?
Depending on the program, our typical day might be anything from two hours to an entire school day. Our play-based classes for children ages 2-8 have a short circle time to begin and end the program. Otherwise, they are led by the children's interests – we might spend time stomping in puddles, playing with logs on the beach, or watching a woodpecker peck a tree or rabbits eating in the field. At the farms that we visit, we connect with the animals in hands-on ways and sometimes have the opportunity to assist with farm chores. Our elementary school class is also guided by the children's interests but incorporates teacher-led learning as well as we explore topics from local ecology to hands-on creating with natural materials.
How did you come to be doing this work? What was your path to getting to where you are now?
I helped start Fresh Air Learning when my daughter was four years old. I had been an educator at a local nature centre for about ten years at that point, and several people had approached me about starting a forest school. The intention was to keep it small and short-term. Obviously, that intention didn't come to pass, as many years later I am still enjoying the ongoing process of creating this program with members of our community.
What have been some of the trickiest challenges you've faced, and how did you move through them?
Some of the biggest challenges have come as we define who we are and what we do as an organization. While people are becoming more and more aware of the benefits of risky play and play-based, child-led exploration, this philosophy can be a challenge to those who prefer more structured learning environments. By clearly articulating what we do and why, we can both open a conversation with parents and clearly define what we have to offer.
What did you decide would be ideal in a space? And what did you settle on as essential to your vision?
When we look for spaces, we look for places where the children have a diversity of environments to play. A feeling of wildness – even in an urban space – also helps the children and facilitators settle into a place. For example, at one of our sites there is a salmon-bearing river, even though it is quite close to roads and an industrial site. We also look for places where those who manage the land are willing to engage in a conversation about how children can play in the space.
What advice would you pass along to folks hoping to start a FNS program?
For those starting a program, I would recommend starting small and moving forward with care. We have chosen to grow selectively and to train others in forest school philosophy rather than trying to be everything to everyone. I feel that forest schools should be very rooted in their local places and that it makes the most sense to facilitate the education of many community members who can create forest school in their own classrooms and childcares.
What hopes do you have for Fresh Air Learning and for FNS in British Columbia and/or Canada?
My hope for Fresh Air Learning is that we continue to be responsive to our community and grow in interesting ways. This is how we have grown in the past – by responding to parents' and teachers' requests and needs. I also see us continuing to be a resource to the many educators in our community who want to bring this philosophy into their classrooms and childcare centres. I value the atmosphere of kindness, inclusivity, and responsiveness that we try to create. By meeting people where they are and meeting them with compassion, I feel that we can be the best resource to our community.
Thanks, Tricia!