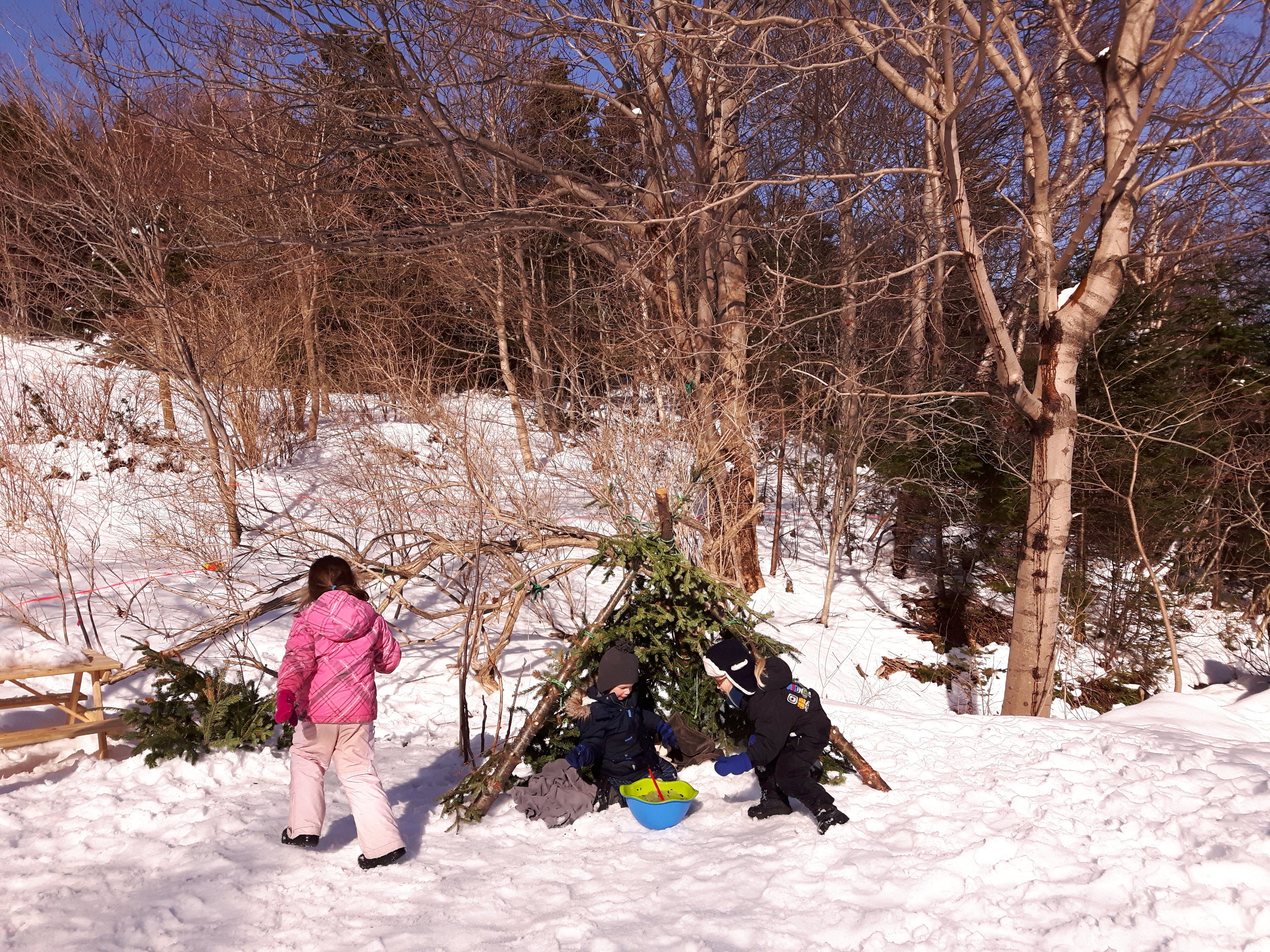 by Petra Eperjesi, Manager of National Programs, and Laura Molyneux of Cloudberry Forest School.
Today in our series of profiles of Forest and Nature School programs across Canada, we're hopping over to St. John's Newfoundland to showcase Cloudberry Forest School.
Hi Laura! Tell us a bit about Cloudberry and where you're located.
We are Cloudberry Forest School Inc. located on the east coast of Newfoundland, right in the centre of St. John's!
Cloudberry is proud to be the newest partner of the O'Brien Farm Foundation. The O'Brien Farm Foundation's mandate is to offer place based educational opportunities in farming, sustainability. connections to history and to the land itself and encouraging the community to get outside. We feel that this is the perfect partnership for us! The property offers 37 acres of dedicated space to share with farmers, fellow educators and the community.
The land is a combination of former farmland and boreal forest. Since it was cultivated farmland at one point we do have some non-native species such as apple trees, but it's mostly fir trees. In terms of wildlife we have song birds, grouse, snowshoe hare and red squirrel. We also face logistical considerations due to the fact that the O'Brien Farm is shared use space AND is actually located on the side of a hill so we get a lot of cardio packing in any program materials in the winter.
For the fall 2017 semester we have been using the historical Thimble Cottage as our warming station with plans underway to build a dedicated Cloudberry space by the 2018 semesters. In addition to space it also allows us to continue to grow our programs to meet the increasing demand for quality and certified Forest School in the St John's area.
When we first started the program we ran out of Clovelly Stables a 13 acre shared space with a local riding stable in Logy Bay.
Can you tell me a bit more about your programs?
Currently we run 4 part-time preschool sessions for children ages 3-5. We run classes Monday/Wednesday morning, Tuesday/Thursday morning, Tuesday/Thursday afternoon and Friday morning. Each session is 3 hours long.
In the summer and school breaks we run school aged camps. These tend to fill up quickly with our preschool alumni. This is our first year being able to offer concurrent preschool and camp sessions now that we are on a bigger site.
What is a "typical day" like?
Every day is different at Forest School and we are outside rain or shine. There's no such thing as bad weather, only bad clothes! In poor weather we build or find shelters, jump in puddles and embrace what Newfoundland has to offer.
Some experiences that are common at Forest School are shelter building, role playing, team games, outdoor survival (map and compass) and tool use. Each of these activities are guided by an adult to let the children learn at their own comfort and skill level and to truly master the skills.
We follow a child-directed curriculum at Cloudberry. The interests of the children lead the content of the programs. The learning occurs through observation and experience, but common topics of learning build on the natural world and the children's interactions with it. Our leaders facilitate the learning by offering support, materials, resources and supervision to help children succeed in their endeavours.
In terms of our schedule, staff arrive at 8am for a complete site check and set up. Because we are in a shared use space we pack in and out all our supplies so we spend this time setting up provocations as well as the basics such as the fire circle, mud kitchen, boundary etc. We have children arrive to the site between 8:30am and 9am. Around 9am we have a morning group time where we share messages and plans (from the children not the educators) and often we offer a provocation or problem to pique the children's interest.
Then it's outside to play! We offer a minimum of 1 hour of free play to allow the children to dive deep into their experiences. During the winter this may be broken up slightly to accommodate a side-ways freezing rain or extreme windchill. Snack usually occurs naturally around 10:30 though some groups may eat earlier or later. Again, during the winter we often go to the warming station for snack. In warmer weather we may eat around the campfire or simply have a picnic in the woods.
Free play occurs again after snack until 11:45 when we offer closing circle and planning. The children take an active role in planning with the educators commenting on things that they also saw the children doing and offering suggestions to expand.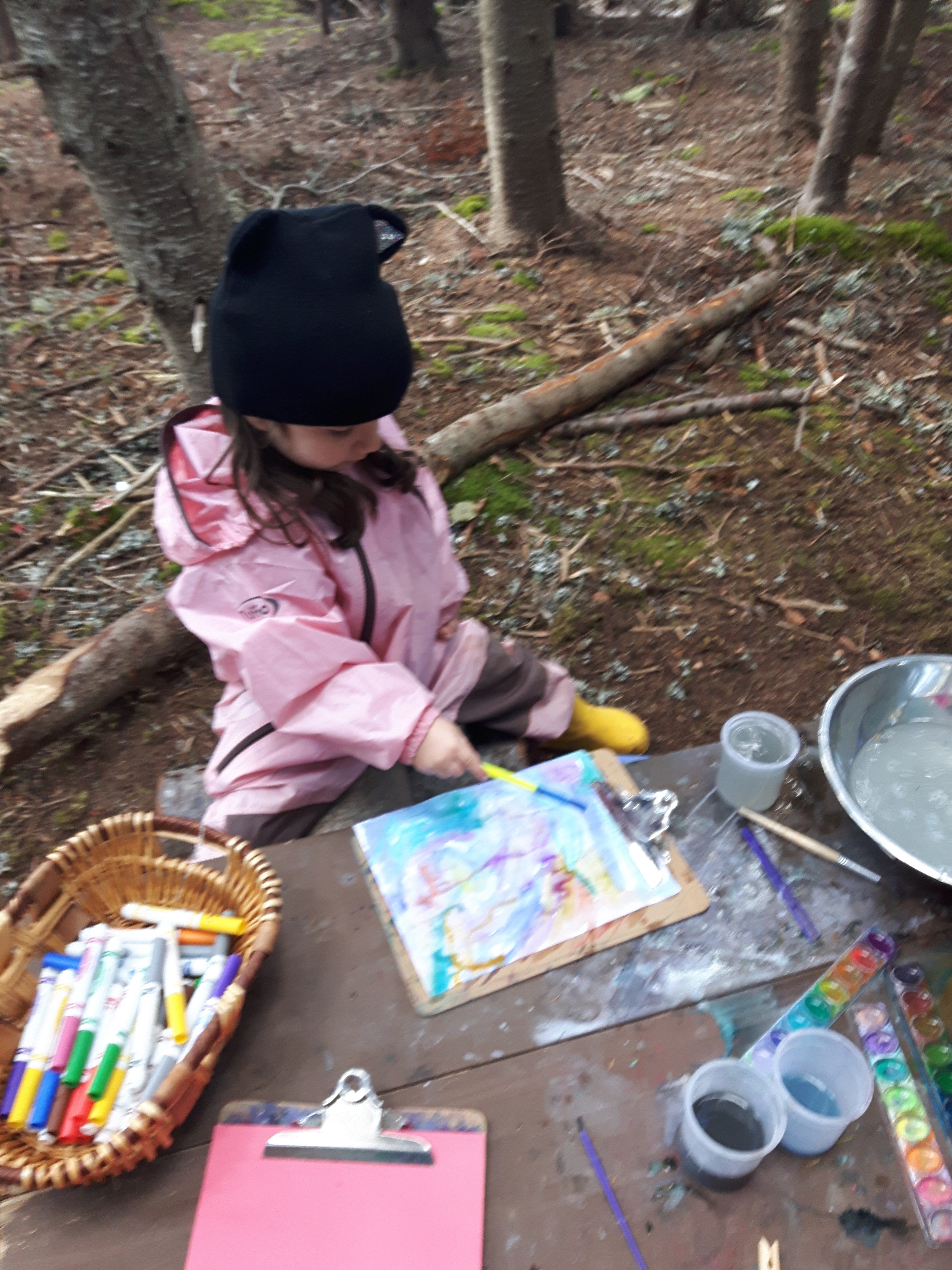 How did you get started as an FNS educator, and how did you land where you are now?
We're lucky to have started this as a team of 2 dedicated professionals.
Nora Trask taught in the traditional school system for many years where she gradually started seeing the outdoors as a necessity for the learning process. Starting with designing natural outdoor play spaces, she progressed to incorporating interactions with wilderness into her teaching plans. Nature and play are now intertwined in learning every day at Cloudberry Forest School, Newfoundland's first outdoor preschool.
I am a level IV Early Childhood Educator. After spending several years in Family Intervention and Support as well as program development and operation, I recognized the importance of true free-play experiences, particularly in an outdoor environment, in helping children develop resilience and self-regulation.
Nora and I met at a conference in 2012 where the fates aligned and CNAC offered practitioner training in New Brunswick the same year. We decided to jump in feet first and see if this was something that Newfoundland would be ready for.
What have been some of the trickiest challenges you've faced, and how did you move through them?
Not having a permanent location for a long time was a challenge. A semester to semester system made it hard for long term planning. When we heard that we needed to relocate we spent a long time thinking about the ideal space and striving for it. Thinking about your vision for the program really helps solidify the program and makes a stressful unknown such as moving a little bit easier.
What did you decide would be ideal in a space? And what did you settle on as essential to your vision?
We spent a lot of time considering our "ideal" space. When we were looking for a program space at the beginning of our journey we spent almost a whole year. Newfoundland has a lot of "woods" but most of it is accompanied with bog, cliff or other less than ideal barriers.
For a year round/full-time program the big ticket items for us were:
Ability to rotate our play areas to minimize impaction of snow and reduce ice issues. This is also important when factoring things such as wind direction. Are there naturally comfortable places to play in a high North Easterly wind?

Shelter or the ability to construct one. While we are outside all day, every day whatever the weather freezing rain and high winds are uncomfortable. A space to change into dry clothes, warm our hands and eat snack comfortably in less than ideal conditions is a game changer for children to learn resiliency and develop a comfort with our program. By the second year of Forest School most children choose to skip "inside snack" in favor of staying outside! Storage of materials in a community space is also helpful to consider. Think about where you're going to dry your tarps or you end up drying them in your apartment bathroom…which is frowned up by your significant other!

Location. We focused on trying to make our program accessible to as many people in the area and minimize large commuting times. It also helps children and families recognize that "nature" is nearby and easily accessible rather than somewhere that must be driven to separate from their day-to-day experiences.
We were also looking at the environment/space as a co-teacher. What are the local flora and fauna? What water sources may be available? Are there spaces for big body/rough and tumble play and quiet play? What are the natural boundaries and how can we enhance them? Is there an interesting history of space? While these questions didn't make or break our decision on a site they were definitely part of our process.
Oh that is so helpful, Laura. Thanks! What advice would you pass along to folks hoping to start a FNS program?
Start slow and start small. You will have no idea what a program looks like for you or for your region. By starting small you can develop your own sense of yourself as a practitioner and help discover the unique attributes of your site (such as where snow melts and floods the space in the spring or where the ice forms in the winter) that can only be learned by being on the land.
Take the Forest School Canada Practitioners Course. Not only do you get a solid foundation for becoming a practitioner but you also get a great network. We are still contact people who did our training with us and when we hosted the course we also had the opportunity develop a network of practitioners here in Newfoundland.
What hopes do you have for Cloudberry and for FNS in Newfoundland and/or Canada?
Our dream is to make Forest School accessible to as many people as possible. We love offering training and workshops to fellow educators and facilitating the discussions around risky play, outdoor and nature play. We are hoping to partner with other organizations and school communities to expand beyond our part-time preschool programs. We'd love to see certified practitioners opening up programs across the province. To achieve this we believe that regional hubs are important so that local practitioners can feel supported and that CNAC mentors have a local understanding of provincial legislation/regulation and are easily accessible to practitioners.
Thanks, Laura!