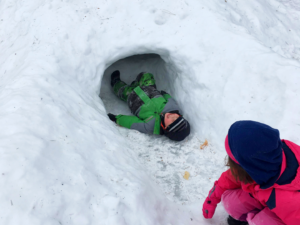 When you feel certain children will encounter a particular risk in their day, one way to share safety guidelines can be through Story.
At an outdoor play program in Northern Quebec educators know they'll encounter a big frozen slide beside the trail as they walk down the hill to their play space. They might tell a story during the opening circle about Owl and Wolf coming across a long icy slide in the forest. Children hear how delighted Owl and Wolf were! Or perhaps Wolf was delighted and Owl felt a bit nervous. It might be a story where Wolf and Owl discuss how to stay safe together. Perhaps the children in the circle contribute ideas to the story about how Wolf can stay safe when he tries the slide. Wolf might learn a lesson or two about what works and what does not work. Perhaps Owl will try the slide or maybe her tummy tells her, "No thank you!"  Wolf will, of course, respect her decision. They go home at the end after the grand adventure. 
It's remarkable how story later emerges in play. Children show us that they're listening even when we're not certain they were. Story is a powerful communicator and in this case, when the children arrive to see this long icy hill, they are already rooted in what works and what doesn't work. They've also already considered consent and respecting each other's feelings. The educators might sit with them and try to remember the story together to establish guidelines for the children to slide, or not!
Reflective Sharing Prompt: Consider a risky experience you encounter with children in play on the land. Write out a simple story that shares the guidelines for staying safe in play.