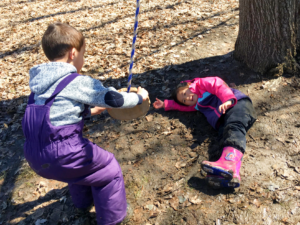 You've created a thorough Site and Experience Risk-Benefit Assessment, you've opened your first day on the land with a Community Standards Agreement and talked through how you'll stay safe with each other. But children's play can still surprise you! The momentum of energy and children's desire to explore can quickly lead play to feeling riskier than we were ready for. 
Perhaps they've climbed higher and more quickly in the tree than you were anticipating. Perhaps one child throwing a rock down the cliff felt good, but the play called to others and now eight children are throwing rocks and you're suddenly feeling scared. There are times we need to pause the play, reassess and reset.
There is no one way to pause the play. There might be times that quiet, calm language and tone might be the safest way to pause the play. There might be times your words and tone are big and expressive because you need to play to stop right now and all eyes on you! This is a moment when your mutually trusting and respectful relationships with the children are essential. We pause the play, take a step away, and talk through what might have felt scary, whether or not the play continues and how we will play safely together. 
Tiiu Strutt, an elementary school teacher in Mount Albert, unceded land of the  Anishinaabe, Haudenosaunee and Huron-Wendat Nations tells a story about taking children out on the land and discovering a long icy slide.