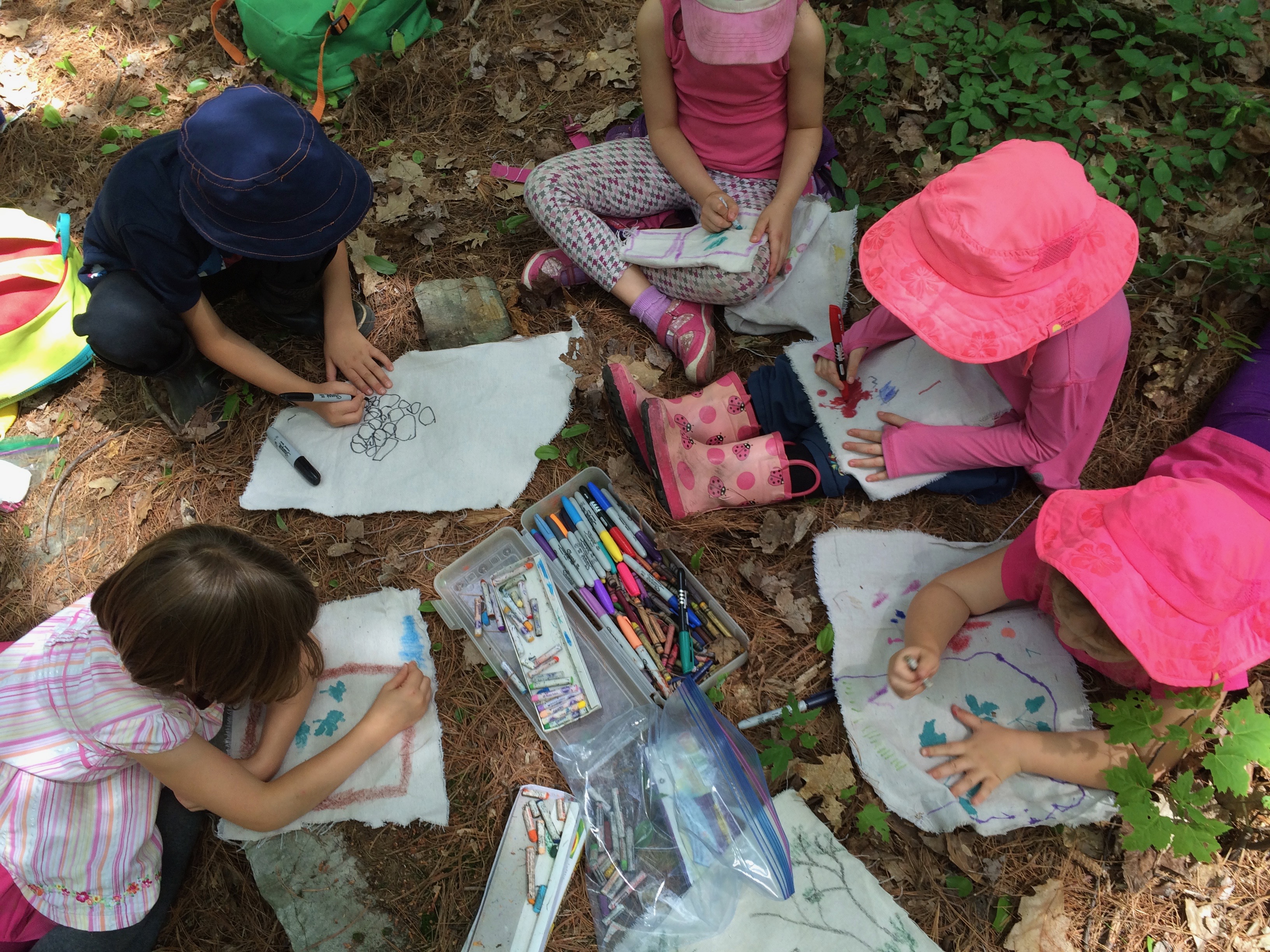 by Sonja Lukassen, Lead Educator and Manager Regional Programs, Ottawa Forest and Nature School
We are often asked what items we would recommend for a Forest School Kit. What do we bring along, or pull out of the shed, to help deepen and extend the curiosity, learning, and play?
The answer is quite contradictory- the sky is the limit regarding what the children will incorporate into their play, and yet what is actually needed is very little. I've seen children focus intently with tiny buttons and beads they had found on the ground, using them as treasure and currency, and I've seen acorns as currency. I've seen children build forest homes for Lego people, and build forest homes for pine cones. I've seen great cities emerge from tree cookie buildings, and also from structures made of ice.
Some forest locations have more loose parts to offer up than others; some children more readily engage with found objects than others; some educators and families seek out more support than others. There are shifting circumstances in every Forest School, free outdoor play, emergent-learning scenario.
Here are a few ideas of items that we find helpful to bring along or to have around:
Tree cookies and hand-cut blocks, sanded and painted… or not…
 Magnifying glasses. (I can neither confirm nor deny that this is a documented attempt to harness the power of the sun for fire. I can promise no ants were harmed this day.)…
Pocket-sized and book-sized field guides…

Garden burlap, for making hammocks, and sailing ships…
Pots and pans, pie plates, bread pans, scoops and flippers and whisks…
Watering cans, for watering… everything and anything.
Baskets and ice jewels…
Ropes of varying lengths- for hanging tarps, securing ziplines, tightrope-walking, or walking log dogs…
Tarps: for hiding from the rain, or creating a cozy den…
Paint brushes, paints, and palettes…
Drop cloth for map making in the forest, flag making on the rocks, and painting mighty landscapes…
Planks and stumps of varying sizes- to shift, to colour, to hide behind and climb upon.
Some of these items are much more portable than others; some are more costly, some easier to find. We have bins and bags of items that we keep handy- items we have learned are often incorporated into play, or that help deepen play in a variety of ways.
We don't always bring the same items, the children don't always request the same items. We often go without any extras at all.
This is not a list, and it is definitely not exhaustive. There are so many tools that can be used to deepen and extend learning and play. The beauty of being outside, though, and being able to follow the lead of the children, is that often no particular additional item is needed at all, and if something is required, the children will be sure to let us know about it.